The Chapmans sold Mill House to the Judsons in 1980 for £18,500, but when they arrived in Bridgham in 1942, it was as tenants not owners. At that time, Mill House was owned by Miss May Lizzie Newson of East Harling. Miss Newson never lived in Bridgham, but rented out the house to a succession of small-holders and farm labourers.
The Chapmans were, like us, a family of five. Sidney Benjamin and Helen Elizabeth were the parents and the children, starting with the eldest, were Jean Leggett, Sidney Ian ( a couple of years younger) and James Edward. The young Sidney was and still is called Ian by everyone to distinguish him from his father. Ian was 14 when he came to Bridgham in 1942, and his brother, Jimmy, was five years younger. Ian is the sole survivor of the family who lived at Mill House.
When the Chapmans arrived at Mill House they found that the steep winding stairs with only one turn prevented them bringing in the upstairs furniture. There was a door on the bottom of the stairs (to keep out drafts) which restricted access further. As a result, they had to take out our entire bedroom window and get the items in that way!
Mr. Chapman came to Mill House with the post of farm foreman (or bailiff) at Roudham Farm. The situation was precarious for a while, but eventually Roudham Farms Ltd was created and run by a group of five directors: C.G. & C.A. Westendarp (Great Blakenham, Ipswich) R.D. & G.M. Hawker (of the aircraft business Hawker Hurricane, from Claydon Hall, near Ipswich) and C.M Webb (Knettishall). Sidney Chapman continued working for them, Ian recalling that both Mr. Westerndarp and Mr. Hawker were very good men. Letter-headed paper of Roudham Farms Ltd from 1960 gives Mill House as the address of the farm bailiff with telephone number East Harling 238. But Mill House was a business address so the telephone had use far beyond the purely domestic.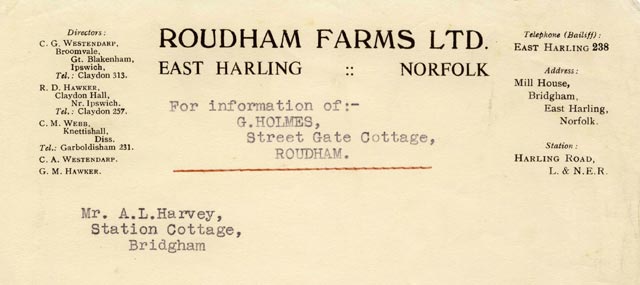 Headed paper c.1935
Ian believes the house was empty when they moved in. Certainly, there had been a succession of short-stay tenancies before their long-term residency. This may account for the state of disrepair. Ian recalls that rain came in through a hole in the ceiling of the smallest bedroom.
Mill House in wartime had a pump in the kitchen and oil lamps for lighting downstairs, but you took a candle when you went up to bed. Coal fires were used for heating in the main downstairs rooms with an ineffectual oil-fired stove replaced by a paraffin heater in the kitchen. There was no heating upstairs – a not unusual situation at all; one just put on an extra layer or two.
The biggest surprise to Ian Chapman when he visited in 2005 was the visibility of the beams and chimney brick work. None of these were open to view when he lived here, though he accepted that most of them must have been there all the time. The fireplaces in both downstairs rooms have changed beyond recognition but the charred beam above the study grate brought back memories of a fire that got out of hand. In our living room, there were cupboards built into the wall on either side of the fireplace. The biggest change to this room is the removal of the wattle and daub from the stud-work which sectioned off another pantry. Ian thought that the overhead beam at this point, rather than being from the old mill, was more likely to be a discarded ship's timber of which there was a surfeit 200 years ago. It has metal brackets on and rope burns, presumably a feature of timber on ships and in mills.
Upstairs, there were many more changes for Ian to absorb. Again the plethora of beams and the chimney stack were somewhat disconcerting for him trying to remember it as it was. But he noticed how the floor sloped in one room, as it did in his time..
The Chapman's toilet was an Elsan closet in a small, wooden shed in the middle of the yard close to a wall which jutted out perpendicularly to the dividing wall between Mill House and the Meek's. It was on the stone drive very near to the heavy cover of what we think is an old well. The contents were usually buried. Eventually a flushing toilet was installed in the same shed which emptied into a cess pit.
The Chapmans, as small-holders, kept a number of animals including pigs, chickens, ducks and chinchillas. They had an outside boiler for heating up pig swill. Meal was mixed with left-overs and the stew was going most of time. Not an unpleasant smell, as the meal gave it a malty aroma. This happened in front of where the wood-shed is now. In their day, the shed was a larger and squarer building with a pyramidal, pan-tile roof. The pigs were kept in the back corner of the garden close to the Meek's, and had a lean-to sty abutting the shed. When piglets came along, the young ones were housed in what is now the courtyard area which was then covered.
Chickens were also kept here, a practice continued by the Judsons for a while. They also had ducks, but they showed a predilection for the River Thet and a reluctance to come home. The chinchillas were a business run by younger son, Jimmy. They are rodents from mountainous areas of South America, bred for their soft, silvery-grey fur. Although some were sold or kept by Jimmy as pets, the majority were sold to the fur trade. The chinchillas were kept in the barn. The last chinchilla was called Sally. They also had a tame Jackdaw which flew away. A number of people came under suspicion of doing away with it, until it was found that it had flown up the street and settled on Herbert Blades' wall. (Herbert was Tom Blades' father). Not realising it was a family pet, Herbert felled it with a single blow of his broom!
Apart from housing the chinchillas the barn was used as a garage and storage area including a wood store. The stabling for horses was up the end where the shower room is now. The Chapmans were the last family to have the Mill Field along with the House. This was cropped mainly with barley, potatoes and sugar beet and ploughed with a tractor loaned from Roudham farm. Chickens were also kept on the Mill Field.
Not all the Mill House land was given over to livestock and farming. The section north of the dividing wall, (which cut the area in two), was laid to lawn and garden with a beehive close to where the elderflower tree is today.
In 1954, Mr. Chapman bought Mill House from Miss Newson. His son, Ian, recalls a family memory that Miss Newson was hard up and asked his father if he would buy the house from her. The deeds bear this out. Although the Newsons had owned the house since 1905, she took out a mortgage for £750 in 1939 and repaid it and a further £500 in 1950, making a total of £1,250. By 1954, the interest and just £50 of the capital sum had been paid, so £1,200 was left for her to find. The house was bought by Mr. Chapman for £820 of which £300 went straight to the mortgagee in part payment of the charge on the property, leaving just £520 for Miss Newson. How this made her better off is unclear. She sold the house for less money than she had it mortgaged for. An early case of negative equity? In a period when house prices changed little, it seems strange that she was able to borrow so much money against the value of a house which was worth less than the mortgage. Of course, selling to a sitting tenant may have required a lower asking price. By contrast, Mr. Chapman appears to have bought Mill House without the need for a mortgage.
In his will, Sidney Chapman left the house jointly to his wife, Helen, and son Jimmy (who was disabled with polio). Ian received the Mill Field, consisting of some 2 acres, 2 roods and 28 perches. On 15 January 1961, less than seven weeks later, young Jimmy died of a brain haemorrhage - he was 27. Ian married in his early forties in 1970, leaving Mrs Chapman as sole occupant after nearly 30 years in the house. She herself died on 11 August 1977, not at Mill House but in Dereham hospital. Mill House was now left to her two surviving offspring, Jean and Ian. It is odd to note that all five of the family owned the house at various times. Sidney bought it, left it to wife Helen and Jimmy, though he didn't live long enough to inherit fully and Helen then left it to Jean and Ian.

The unoccupied Mill House was not sold to Andrew Judson until two and a half years after Helen Chapman's death as Ian did not want to sell the family house but did not know what to do with it either. His wife, another Jean, would not move into a house that was in such a state with no inside lavatory or proper bathroom. As we know, Andrew Judson had to gut the property to make it habitable by modern standards. Jean Fitt died around the time we moved to Bridgham. Ian, though, still works his small holding from The Chalet at Roudham which includes Mill Field - 63 years after his father first cultivated it.
David O'Neale - 20th January 2008